Paul Brunton Daily Note

We are having problem with our mailserver - we are not able to send any daily notes!
Eleven kommer slutligen att lära av erfarenhet att han måste lita till sig själv, och bara till sig själv, för att nå befrielsen. Den döende Buddhas sista uppmaning till sina lärjungar – "sök inte tillflykt hos någon annan än dig själv" – har varit en värdefull vägledning för mig.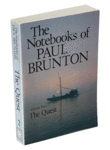 Från The Notebooks of Paul Brunton, volym 2
Kategori 1: Overview of the Quest
Kapitel 6: Student-Teacher
Nummer: 720