Paul Brunton Daily Note

We are having problem with our mailserver - we are not able to send any daily notes!
... Wu-Wei, que significa inação, não tentar, é o mais elevado ensinamento do Taoísmo e do Zen... O Eu Superior já está lá. Você como ego deve sair do caminho...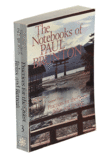 De The Notebooks of Paul Brunton, volume 3
Categoria 2: Overview of Practices Involved
Capítulo 1: Ant's Long Path
Número: 209, Excerto