Paul Brunton Daily Note

We are having problem with our mailserver - we are not able to send any daily notes!
Disciplen lærer i sidste ende af erfaring, at han må søge frelse alene. De sidste ord fra den døende Buddha, skønt rettet til hans egne disciple, har været en nyttig vejledning for mig: Søg ikke tilflugt hos andre end jer selv.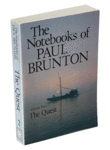 Fra The Notebooks of Paul Brunton, bind 2
Kategori 1: Overview of the Quest
Kapitel 6: Student-Teacher
Nummer: 720