Paul Brunton Daily Note

We are having problem with our mailserver - we are not able to send any daily notes!
El discípulo aprenderá al final, por experiencia, que debe buscar la salvación solo en sí mismo. Las últimas palabras del Buda moribundo, aunque fueron dirigidas a sus propios discípulos, han sido una guía útil para mí: "No busquen refugio en nadie más que en ustedes mismos".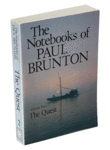 De The Notebooks of Paul Brunton, volumen 2
Categoría 1: Overview of the Quest
Capítulo 6: Student-Teacher
Número: 720