"Whoever has benefited by these ideas
is under an obligation to make them available
to whoever else may be ready to receive them..."
Paul Brunton
Use Facebook!
A. Invite all your Facebook friends to Paul Brunton Daily Note.
You can do this in two ways.

1. Recommend
1. Click on the button "Recommend" above the menu to the left
on the home page.
2. Write a message in the box that has now come up. The text
can be read by all of your Facebook friends.
3. Click on "Post to Facebook".
4. Click on "Close" if you wish to abort.
2. The PB-card
1. Download the pb-card to your computer by clicking on it.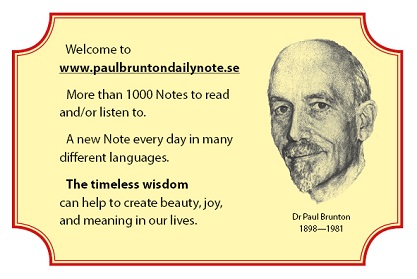 2. Go to your
Facebook page.
.
3. Click on your status update, and then a picture of a camera will come up.
4. Click on the camera.
5. Go to the pb-card and double click on it.
6. Click on "Send" (Post).
B. Share a text – the day's or an earlier posted –
with one or more Facebook friends
1. Under the text – that you find in the Library, Day to day or The thirty latest...
and that you wish to to share, there is a blue button with the word "Send".
Click on it, so that a box comes up.
2. Write the name of the friend or friends that you would like to receive
the chosen text in the box.
3. Write a greeting in the box "Message".
4. Click on the word "Send". The addressee (addressees) has/have now received
the chosen text as well as your message. The person in question is informed
through an e-mail that the text and the message can now be read.
5. Click on the word "Cancel" if you would like to erase everything
(name and message) that have been written in.